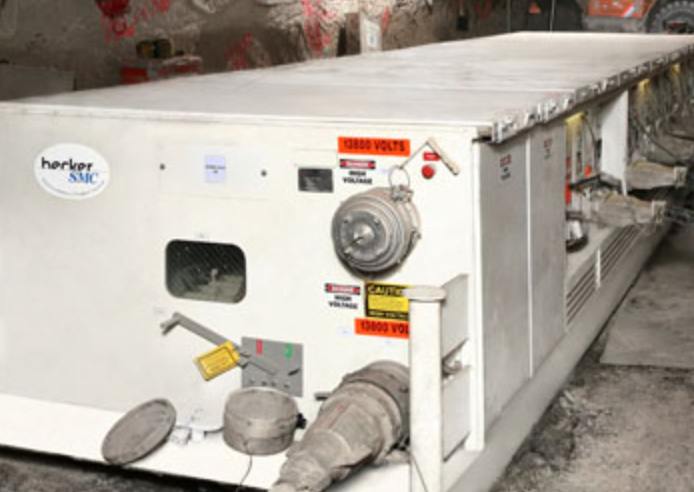 Any mine requires an extensive electrical load to operate. This is especially true for longwall mines which require large and continuous electrical loads to power equipment such as shearers, conveyors, and pumps. A longwall mine typically has two switch houses, each with a main electrical substation. The substations provide power to the longwall panels via high-voltage cables. The cables are connected to the equipment via splice boxes, which are located along the length of the longwall panel.
Becker Mining Systems offers a variety of power distribution equipment for mines, including CPS (Critical Power Systems), switch houses, and splice boxes. CPS is a modular system that can be adapted to the specific needs of each mine. Switch houses are used to house the main electrical substation, and splice boxes are used to connect the high-voltage cables to the equipment.
All of these power distribution systems need to be mitigated by a series of alarms, interlocks, and controls to ensure the safety of the miners and the equipment. Becker Mining Systems offers a variety of products that meet these needs, including alarm systems, which are designed to monitor and control all aspects of the power distribution system.
Our junction and splice boxes can help with expansion throughout a mining site. These tools can ensure that you can easily expand and manage power generation as your mine keeps growing. We can deliver switch houses that are compatible with up to 1200 amps of power generation. 
Portable substations and capacitor banks are two of our main specialties. These are used to provide power to the longwall panel in case of a failure of the main substation. We also offer a variety of other products, such as cable management systems, which are designed to keep high-voltage cables organized and safe. If you need consistent tools for generating power or managing distribution, Becker Mining Systems is the way to go.
All of our power distribution systems are designed to meet the highest safety standards and are backed by our team of experts, who are available 24/7 to provide support and maintenance. We can outfit the tools we use throughout your business to suit your power distribution systems needs. Whether you need a CPS system or any other power distribution equipment, Becker Mining Systems has the products and services you need. Visit our website to learn more about our products and services, or contact us today to speak with a team member with specific requirements. 
Every power distribution tool that we create complies with the CSA and MSHA. Power distribution is a critical part of every mining operation, and we take our responsibility to provide safe and reliable products seriously. 
Becker's power distribution equipment is reliable and efficient and is used in mines all over the world. You can find our equipment in Europe, South Africa, and America, and we can create equipment that will work in any mining environment.
Contact Becker Mining Systems today to learn more about our products and how we can help you improve your mine's electrical system.