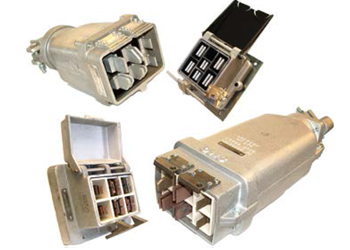 SMC's low voltage connectors are rugged, trouble free devices providing quick, confident connect/disconnect advantages to AC or DC line or switchgear from portable mining equipment to self-propelled machinery.  They are available from 225 Amperes to 800 Amperes up to 1000 VAC and 600 VDC.  Cable sizes range from #8 to 500 MCM.
Features
Universal grommet and cable clamp
Single-piece, high grade reinforced insulator
Pad lockable plug
Aluminum housings with integral cable grommet provide a dust-tight environment forceable termination insuring the  long life of the cable and connector
All live exposed parts are completely enclosed by the metal housing
Captive dust covers standard on gear mounted receptacle
Minimum effort required to connect or disconnect electrical connections. Dual latching for added safety.
Ground check circuits make last, break first to insure phase connection are de-energized when connector opens.
Self wiping contacts insure good electrical connections after each operation.
Both dust tight and Bureau of Mines construction on gear mounted units allow SMC to solve all of your connector needs.
Removable ground strap allows flexibility in complying with Federal and State of PA monitoring requirements.
Options
Case ground - internal or external
Detachable dust covers