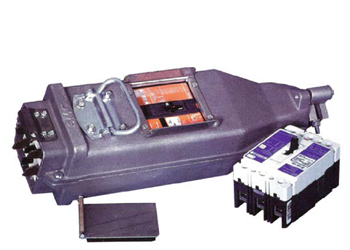 Introducing our Lever-Action/Circuit Breaker connector for rugged, mining electrical use.
You asked us to develop a way to supply a smaller amperage protected circuit when the most convenient outlet is on a higher amperage breaker. There are many applications that could use this type of connection, such as running pumps or tools, and this is our safe, cost-effective solution to that problem.
We've adapted our popular Lever-Action, line mounted housing to accommodate the Cutler-Hammer line of F-frame, mine-duty circuit breaker products. The connector comes in our standard 300 Ampere or 600 Ampere configurations with male contacts. They are "dustite" with a pilot circuit and dust cover just like our regular Lever-Action connectors.
We can supply any of the Cutler-Hammer mine-duty breaker products such as Magnetic, Thermal-magnetic, or adjustable trip Motor Circuit Protectors in the F-frame size. You can choose from many available amperages.

Example: PL30DFC067-0M6B100 would be a Plug, Line-mounted, 300Amp rated head, Figure 67 head, no keying, Magnetic only breaker, 300-1000 trip range B, 100 Ampere Breaker.
These connectors are designed using modified SMC Lever Action two-piece housings with standard contact arrangements.
Type: Plug (P) [male phase contacts].
Mounting: Line mounted only (L).
AMP Rating: Connector head is rated 600A (60) or 300A (30).
Size: Comes only as "Dustite" w/ metallic dust cover, w/ Pilot circuit (DFC).
Standard Connector Figure: (067) = 300 AMP - Firgure: (064),(107) = 600 AMP.
Options: (K) = Keyed, (G) = Internal Ground, (X) = External Ground, (O) = No Keying.
Breaker Type: (M) = Magnetic only, (T) = Thermal Magnetic, (C) = Motor Circuit Protector - Cutler Hammer    Mine Duty "F" frame 600VAC, 1000VAC or "series C".
Voltage Rating: (6) = 600VAC, (1) = 1000VAC. Note: only 600VAC is approved in Pennsylvania.
Trip Range: Some breakers are offered in two trip ranges. (A) is the first trip range option shown for that amperage; and (B)  is the second trip range choice shown; (Z) is no choice.