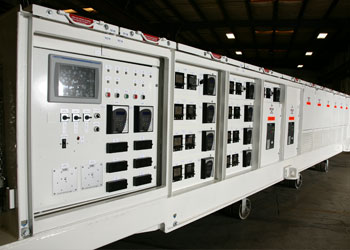 Longwall Power Distribution and Automated Control Systems
Becker Mining longwall electrical systems are utilized on over 70% of the longwall operations in the U.S. The most productive, highest tonage producing mines use SMC equipment. Our innovative products have made major advancements in mining control and automation. We provide user-friendly systems, enabling higher operating efficiency and in- creased production.
SMC designs, manufactures and commissions the electrical system from start to finish.

Becker Mining America provides complete longwall electrical systems from the top of the pole to the bottom of the hole. Our power centers ranging from 1000kva to 12MVA are the most demanded in the mining industry and have been supplying power to longwall faces for over 30 years.

BMA has over 1,500 "MSHA" certified explosion proof de- signs to ensure we offer our customers the most flexibility in designing the electrical controls.
In-by Options: 995-4160 VAC or combinations depending on motor requirements.
Primary Voltage Options: Up to 35kV
Complete longwall electrical systems include the load center, pump power center, explosion proof "MSHA" certified master controller, pump controller, intrinsically safe voice communications, signaling, conveyor lockouts, pull-cord switches, prestart warning, LED face lighting, and explosion proof mid-face junction boxes.
Becker Mining has the largest support globally of Sales and Engineering support in North America allowing immediate assistance during start-up and production service needs in the United States of America.