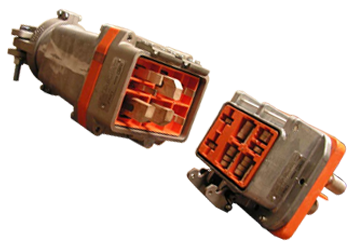 Quick connect/disconnect of AC or DC power from equipment or machinery.
Lever action mechanism with safety latch.
Eight individually spring-loaded contact points per phase.
Spring contacts reduce mating force.
Self-aligning contacts.
Self-wiping contacts.
Solder connections for cooler operation.
Rear insertable contacts.
Internal case ground.
Ground-check circuits break first to insure phase connections are not energized when connector opens.
Available keyed or non-keyed.
Padlock provision prevents accidental connection.
Dust-tight construction.
Rugged aluminum housing.
Captive flap dust cover.
Single-piece, high-grade reinforced fiberglass insulator resists tracking.
Universal strain clamp and cable grommet.
Line or gear mount.
Cable range 4/0  -500 mcm.
1000 volt rated.