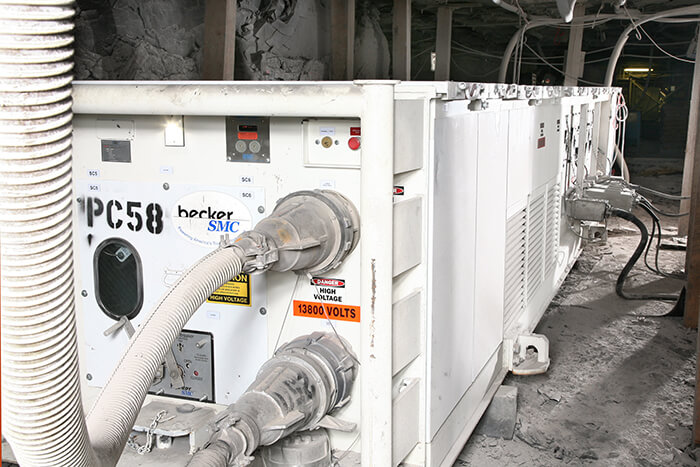 Becker mining is a trusted name in the mining industry and has been providing quality equipment for over three decades. They specialize in a wide range of products, from CPS critical power systems and switch houses to surfacing mining tools, junction and slice boxes, power and splice boxes, power substations, capacitor banks and much more. Their commitment to excellence has made them the preferred choice for many mining operations all over the world. They are proud to offer superior products that are designed and manufactured to meet the highest standards of quality, safety and performance. 
The top products we produce include:
Critical power systems: These tools need to be reliable to prevent downtime and maximize profits. Becker Mining has the expertise and experience to deliver top-notch CPS systems for any mining operation.
Switch houses: These are critical components in any mining operation, as they help control power distribution from substations to other parts of the mine. Becker Mining's switch houses provide reliable and efficient operations in even the harshest environments.
Surfacing mining tools: Our robust, high-grade surface mining tools are designed to get the job done quickly and effectively. From cabling to communications tools, we have what it takes for you to maintain your mining site and maximize safety.
Junction and slice boxes: These devices help ensure electrical connections between different sections or components within a mine. Becker Mining's junction and slice boxes are designed for maximum efficiency and reliability.
Power and splice boxes: These tools connect the various power sources from substations to other parts of the mine, helping to ensure consistent power distribution. Our products are made with quality materials and strict attention to detail to ensure reliable performance. 
Switch Houses: We design switch houses up to 1200 amps with compliances from the CSA and MSHA. They are designed to protect against water, dust and other environmental hazards. 
Power Substations: Our power substations provide reliable power for your operation and are designed to meet any voltage or amperage requirement. 
Capacitor banks: Capacitor banks help ensure the highest quality of electrical performance and save energy by reducing peak demand and boosting power factor. Becker Mining's capacitor banks are designed to provide reliable operation for many years.
Experienced Team of Professionals
Our experienced team of professionals is dedicated to providing customers with solutions that exceed expectations, helping them get the most out of their operations. Becker Mining is committed to creating an environment with the best in quality assurance. Every product tested is rigorously inspected and tested against the highest standards of safety, performance, and reliability. We are also committed to providing customers with outstanding customer service. 
Our knowledgeable staff is always ready to help customers find the right equipment for their needs and answer any questions they may have about their products. Becker engineers troubleshoot and integrate new mining tools with operators and supervisors in mining sites in hundreds of mines every week. We strive to provide their customers with the best possible service, making sure they get the most out of their mining operations. 
At Becker Mining, we pride ourselves on the quality of our products and services. Our experienced staff is here to help you find the perfect equipment for your mining operations. Contact us now to find out more about our products and services. We look forward to helping you get the most out of your mining operations!