The Importance of E-Houses in Underground Mining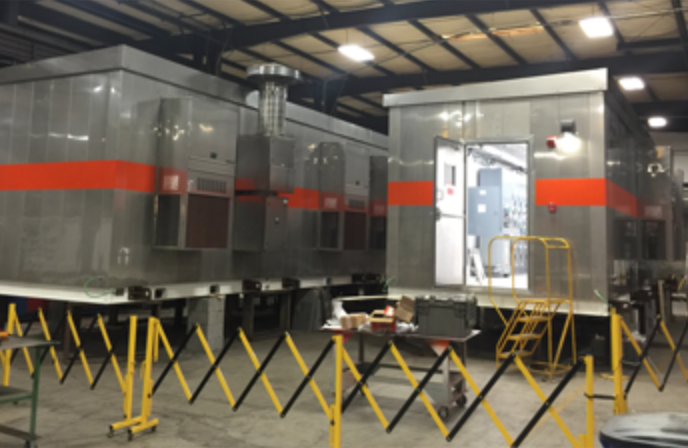 In any type of underground mining facility it's important to have protection for your sensitive electronic equipment. For years we have produced a series of powered control rooms including a superior level of protection for underground mining. Our systems are produced in a prefabricated environment that's on the forefront of industry safety. We are a company that can handle distribution as a worldwide supplier. We are a complete OEM and offer turn-key from design, to build, to factory acceptance testing.
We can make sure that we are building systems that are designed to withstand even the most challenging environments. We want to offer you the maximum amount of protection against the elements, dust, corrosion, high heat and more. Our systems are produced using ceiling and roof panels that are interlocked as well as specialty coated to enhance the strength of the system and to minimize the overall weight of the enclosure. This can save money on the shipping process and make sure that you get a proven product that can be designed to house your equipment for years successfully. 
E houses that we produce are assembled with factory controlled quality procedures each step of the way. It's our goal to provide extensive factory testing to make sure that our products fall in line with all of the latest standards. We want to make sure that we can exceed applicable codes in the industry and offer you a trouble-free level of service. Our products are constructed to the full requirements of the national electric code for industrial buildings as well as for commercial mining operations.
We are a company that specializes in design, manufacture, assembling, and testing in our factory. We can take on challenges and deliver these products at any time to any location.
Through our designs, extensive testing and superior quality of assembly, we can make sure that the process of installation and design for an E house for your operations can be done with ease. We have field proven our products in a wide range of industries and locations. We ensure that you can get the finest in reliability for your electronic equipment by housing it under the safest conditions.
Contact us today to learn more about the E-houses that we can produce for your company specifications. These are systems which are built for your company and for handling the most rigorous of environmental challenges.