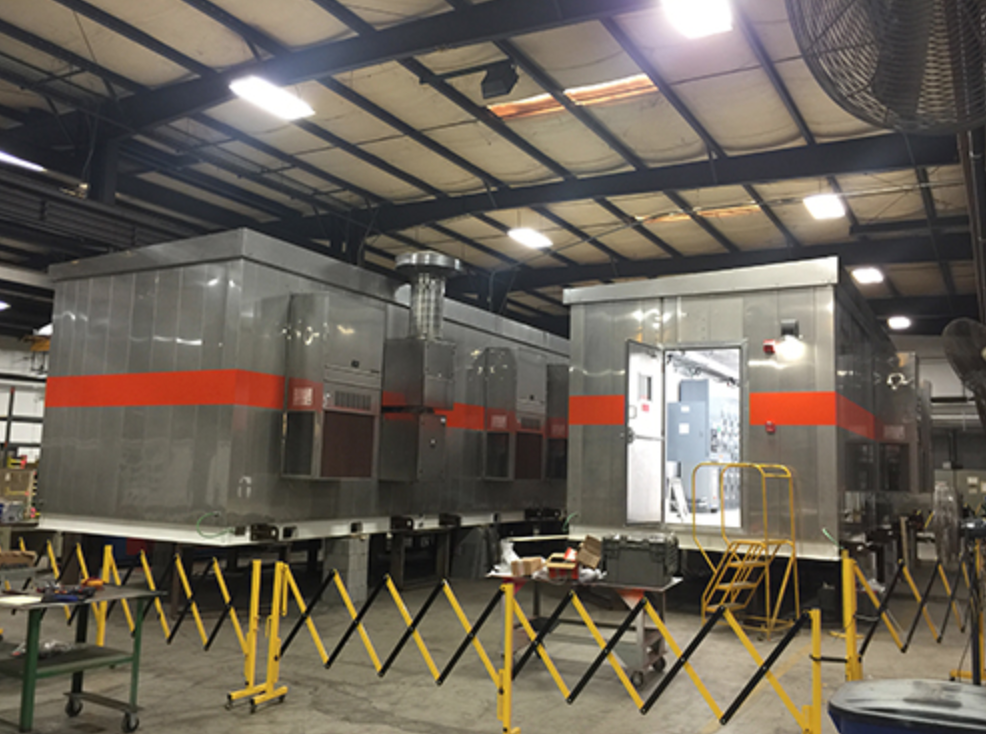 We offer industry-leading E-house substation construction. Becker Mining is a company offering e-house construction and retrofitting with nearly a century of experience in the industry.  Our engineering, procurement, and construction (EPC) team will work with you to create a custom solution for your project, whether it's new construction or a retrofit. 
Our E-houses are fully tested prior to shipment and they have been proven to withstand even the most challenging environments. When we produce e houses it is with the goal in mind of building a control room and e-house design that can stand up to the complex needs of a mining site. Whether you are in underground mining or open-pit mining, we have a design that will work for you. 
What's more, our E-houses can be designed to any size specifications- so no matter where you want to put it or how big you need it, we can make it happen. And because we take end-to-end responsibility for our products, you can be confident that your E-house will be built on our site and shipped to your site according to schedule.
When you partner with Becker Mining, you are partnering with a company that has nearly a century of experience in the mining industry. We have the expertise and the team in place to provide you with a custom E-house solution that will meet the specific needs of your project. 
Our E house designs are built using a fully integrated interior and exterior design, it is an exceptionally adaptable freestanding structure that may be erected in a variety of locations. It has multiple platforms for different flooring layouts. Providing optimal safety and security against the elements while still providing native beauty to your property.
We construct our e houses off-site and make them easy to reassemble. You can rest assured that your e-house will come ready to deploy and with the minimum amount of downtime. Our team is available to answer any questions you have about our products or services as you are getting started too. 
We take pride in being able to offer our clients the most reliable and durable E-houses on the market. When you partner with us, you can be confident that you are getting the best possible product for your money. 
E houses can help you stay organized on your job site as well as offer a  variety of protection against the elements in an emergency. Having a quality e-house could result in better safety measures for your staff as well as improvements to your job site and efficiency. Our e-houses can save you costs and protect your sensitive equipment so that you can resume operations easily. 
If you are looking for an E-house substation that is built to last and can withstand even the most challenging environments, Becker Mining is the company for you. We have the experience and the team in place to provide you with a custom solution that will meet your unique needs. Contact us today to learn more about our E-house substations and how we can help you with your mining project.