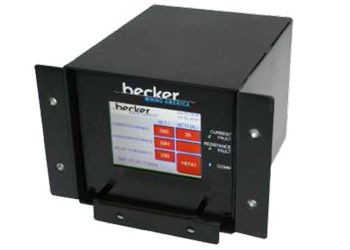 Benefits
Provides safety for miners
Protects customer's equipment underground
Maximizes mine production
Features
Collects Real-time data
Predictable failures
Secure Settings
Description
Becker has redefined the mining market by developing a new Ground Fault Relay with innovative state of the art technology. The Becker Mining America new SGF-25 Sensitive Ground Fault Relay is a .025- .5 amp Ground Fault Relay that is capable of very sensitive high accuracy ground current and look-ahead protection.
It has the ability to "look ahead" and determine a configurable ground resistance condition before the motor power circuit is energized. A graphical touch screen display is now provided in the single relay assembly, providing real time data, configuration, data log and a help menu.
The new SGF-25 is used to protect electrical cables and motors from phase to ground faults as well as preventing the electrician from closing the circuit into a fault. When the preset level of the fault current and time delay are exceeded, the relay will initiate a trip action. The new SGF25 system uses a current transformer connected in a zero sequence or a ground return sensing method.
Application
The new SGF-25 Relay is used for critical 4160 volt applications where very sensitive
high accuracy ground current protection with high degree of nuisance tripping immunity is important.
This relay is required to properly protect large horsepower circuits.
Existing Features
Very sensitive, high accuracy current measurement (.025 to .500 amps)
High degree of nuisance trip immunity
Time delay tripping range 0 to 250 milliseconds
Look ahead circuit that verifies condition of power circuit before energization (Range: 100K to 10M ohm)
Accepts CT test winding
Remote 120 VAC test trip
Remote 120 VAC reset
Failsafe design - Output relay coils are energized during non-fault conditions
Requires BMA/SMC high noise rejection CT's
New Features
Touch screen VGA display
Draw-out relay with mine duty connectors
Ethernet capable for writing to a .CSV file or web part
USB flash drive connector to upload data log and download firmware
Field replaceable lithium battery and VGA display
Password protected configuration
Specifications
Supply Voltage 120 VAC, 50/60 Hz Ground-Current Sensitivity 25, 50, 75, 100, 125, 150, 200, 300, 400, 500 mA Ground-Current Trip Delay 0, 50, 75, 100, 125, 150, 175, 200,225,250 mSec Cable Resistance Sensitivity 100K, 250K, 500K, 750K, 1Meg ohms 2 Form C Contacts 250 VAC, 10 Amps make, 2000 VA break
Part Numbers
SGF-25 Ground Fault Relay Part No. 500-1800 SGF-25 3" CT Part No. C4310-003 SGF-25 5" CT Part No. C4310-005 SGF-25 HV Coupler Part No. C4310-010