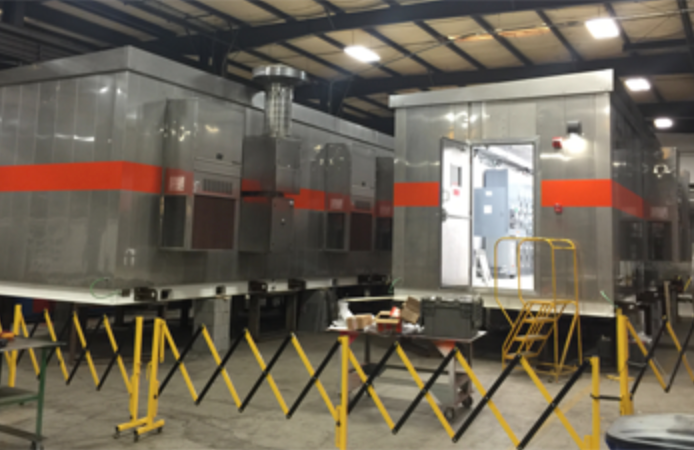 Power control rooms are an essential piece of the power distribution puzzle. Becker Mining has developed power control rooms for the electrical industry that are designed to improve the safety and reliability of electrical systems. These power control rooms provide modern, user-friendly interfaces and a wide range of features that make them an ideal choice for managing electrical networks.
Becker Mining's power control rooms offer a number of advantages including a superior design for maximum protection from the elements as well as a corrosion-resistant coating on all metal components. Each control room is designed to provide maximum protection against moisture, dust, and other environmental elements that can damage electrical systems. Additionally, all power control rooms are equipped with the ability to tear down and set up with ease. All power control rooms are produced under BPCR and assembled in factory-controlled settings. These are items that are built to suit every IEEE standard and NEMA standard. 
With all the added storage space you need for electrical equipment and safety room for staff, these are buildings created to suit the needs of staff members across the country. The modular design of the control rooms also allows for easy installation and reconfiguration if needed, allowing for increased flexibility and adaptability when changes are necessary. By using these power control rooms you can rest assured that your facility is up to code and running smoothly. 
Interlocking panels make up the control room ensuring that it is easy to move and also very lightweight while maintaining its strength. The corrosion-resistant powder items will ensure that this is a device capable of thousands of consistent use. 
Control rooms built by our staff can be outfitted to the needs of your company. Whether you need a control room for underground conditions or something that will be made to suit a job site in an industrial building, we are here to help.
All equipment from Becker Mining will arrive ready to assemble and with a clear schematic to help you along the way. With a variety of sizes and styles to choose from, we can ensure that your power control room is up to par with the highest safety standards. Our team provides easy troubleshooting to ensure the safe and reliable operation of your control room. 
With only a minimum foundation requirement and a system that is fully tested prior to shipment, you can have complete confidence that the power control rooms from Becker Mining are the best choice for your electrical needs. Every control room is designed to provide maximum safety, reliability, and long-term performance.
Learn More
Becker Mining's power control rooms provide the perfect solution for those looking to increase safety and reliability in their electrical systems. With our outstanding construction and customer service, you can trust us to provide the best possible product on the market today. If you're interested in learning more about what we have to offer, please don't hesitate to contact us.