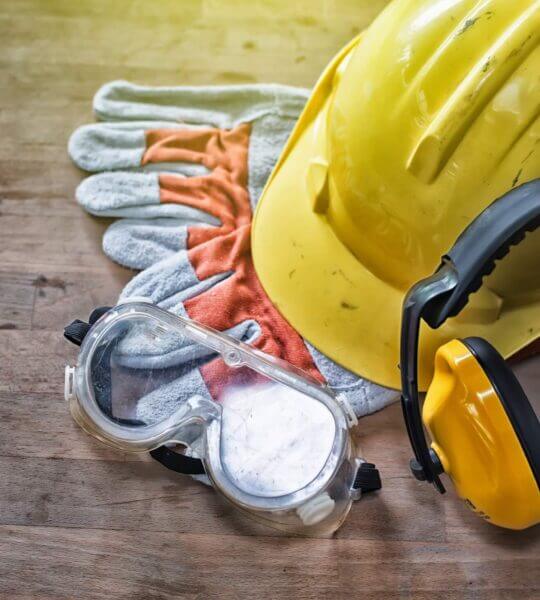 The National Fire Protection Association is the leading fire prevention source code for public safety. NFPA 70E serves as a guide amongst businesses in the electrical and heavy equipment industry for protection against electrical hazards in the industry. The standards they put in place are tailored to help reduce the chance of injuries and fatalities among workers who may come in contact with electrical hazards, such as arc flashes. 
NFPA 70E mandates employers provide their employees with clothing that meets specific requirements when working in high-risk areas. This includes flame-resistant (FR) or non-flammable clothing, gloves, helmets, face shields, and safety glasses. FR clothing should be designed to protect workers from arc flashes, flames, molten metal splashes, and electric shock. These materials are vital in helping prevent severe burns or other injuries caused by electrical hazards, so employers must adhere to the guidelines set by NFPA 70E when selecting personal protective equipment (PPE). 
Arc-rated clothing must be worn when there is a possibility of exposure to an electrical arc. If there is a chance that an employee could receive up to second-degree burns from the arc flash, then the clothing must be arc rated to provide maximum protection. The minimum arc rating should also follow NFPA 70E guidelines to ensure safety and compliance with regulations. 
NFPA 70E uniforms can include coveralls, pants, and shirts that comply with the NFPA standards and the added shielding and PPE that can be required for specific jobs. These uniforms and the availability of this PPE is crucial for workers in electrical installation and maintenance and people that work in trades like mining or demolition. 
Some industries, such as residential and commercial electricians, remain excluded from the requirements for arc-rated clothing and PPE. However, they should still be aware of the NFPA 70E standards. It is important to note that even though these industries are not required to follow the same strict guidelines, it is highly recommended for safety and protection against potential electrical hazards.
OSHA and NFPA run compliance programs in tandem to hold employers accountable for following all the mandated rules and regulations to ensure that workers stay safe. Employers will need to find the potential risk by performing an arc flash hazard analysis alongside flash risk assessments. When the potential severity of the injury is determined, the employer must find clothing that meets the rated protection levels. Employers should always select the highest quality FR clothing for their employees and ensure it meets the criteria set by NFPA 70E for maximum safety. 
In conclusion, NFPA-rated protection and clothing are essential to the safety of workers in high-risk areas. Business owners and employers should ensure they comply with the NFPA 70E standards, as failure can lead to fines or other repercussions. Moreover, providing employees with arc-rated clothing and PPE is a must for any industry that works with electricity. Still, even when it is not required, all workers in any industry should be aware of the NFPA 70E standards to protect themselves from electrical hazards. 
Contact Becker Mining Today
As a leader in the mining industry, Becker Mining is dedicated to promoting safety and protecting the well-being of all workers. We urge mining companies and workers to make safety a top priority by implementing proper safety protocols, using appropriate safety equipment, and continuously training and educating workers on the latest safety practices.
Join us in our mission to make mining safer for everyone. Take action now, call us or visit Becker Mining website and see how we can help you improve your safety in the mining industry.
Products We Offer: