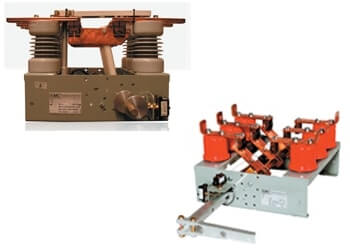 Voltage interrupters in high-voltage industries like mining are essential tools for protecting employees and equipment. Becker Mining offers a variety of high-voltage interrupters designed to provide reliable and efficient power interruption. Our interrupters feature a wide range of tools that can be used to deliver an instant power shutoff in the event of an emergency. When combined with our monitoring support and the tools we created for mining safety, we can ensure that your mining site is updated with the best new equipment in the market for keeping your workers safe. 
The main features of our high voltage interrupters:
Heavy-duty power interruption auxiliary switches:

Our auxiliary switches allow for quick and easy power interruption for maintenance purposes.

Undervoltage and shunt trip release:

Our Undervoltage and shunt trip release automatically shuts off the power when the voltage falls below a pre-set level. 

Integrated fuse holder:

This feature allows you to integrate fuses directly into your high-voltage system, eliminating the need for an external fuse holder. 

Separate fuse holders:

These provide you with a separate place to store different kinds of fuses and make them easier to access when needed.

Variable disconnects:

Our variable disconnects feature both non-load break and visible disconnect switches to ensure that your high-voltage system is working safely and efficiently. 
Separate fuse holders are present on many of the high-voltage products in the market. But we believe that having a separate fuse holder for each type of fuse is the safest and most reliable way to protect your system from excessive current or power outages. We have these systems available through our 15 KV applications and for the chance for remote or local annunciation. These are systems that can protect staff members and keep equipment working at peak efficiency. 
No matter what your needs are, Becker Mining can provide you with the best and most reliable high-voltage interrupters for your mining site. At Mining Solutions, we only offer the highest quality products and services to ensure that our customers are always safe. Our solutions can help you keep your mining site running smoothly and efficiently, without any risk to your workers or equipment. 
Duality switchgear ensures that you will have the option to install a vacuum interrupter mechanism or use an operating shaft. These systems can also provide your mining site with the best in protection from electricity overloads, overvoltage, and undervoltage, as well as provide the current necessary for welding or other electrical operations. We only offer top-quality products and services to keep your mining site running safely and smoothly.
Voltage interrupters built by our company come tested and ready for use on delivery. We work diligently to verify our products and ensure that they can offer the best in support to our clients. 
If you have any questions, please don't hesitate to contact us. Becker Mining is your trusted source for high-voltage interrupters and mining safety solutions. We look forward to helping you find the right solution for your needs! Thank you for choosing Becker Mining! Contact us now!