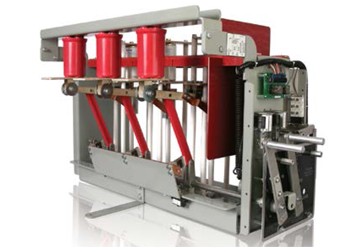 Vaccuum Circuit Breakers & Load Break Switches
The SMC family of high voltage, Vacuum Circuit Breakers, Load Break Switches, and Visible Disconnect Switches feature heavy duty, multi-purposed operating mechanisms lending themselves to a variety of applications.
Vaccuum Circuit Breakers & Load Break Switches
SMC offers Vacuum Circuit Breakers up to 1200A and Load Break Switches up to 600A. These switches use vacuum interruptors capable of thousands of full load interruptions, unlike conventional air breaking devices that are generally rated for hundreds of operations. The standard non-automatic load break switches, ranging from 5 to 15KV, include a manual operating handle, stored-energy, trip-free operation, no-sparks interruption, visible disconnect and automatic grounding of the load side terminals. They are virtually maintenance free, compact in size, oil less, and are easily connected.
Options
This is available on Vacuum Circuit Breakers and Load Break Switches. When tripped, the vacuum interruptors open, and the switch is driven to a completely open and grounded position (as long as control power is available). This is done through a heavy duty DC motor and chain drive mechanism on the common operating shaft.
Auxiliary Switches
Many of our switches allow the option of adding an Auxiliary Switch for both the vacuum interruptor mechanism and the operating shaft.
Integral Fuseholder
Many of our switches may be provided with an attached Fuseholder for up to 400A. They accept fuses with a builtin spring operated striker pin. This pin extends out one end of the fuse when blown and causes a mechanical linkage to open or close an auxiliary switch. The switch can then provide a signal to the shunt trip or undervoltage tripping attachment. Single phasing from one or more blown fuses can't persist. Available through 15KV applications.
Non Load Break, Visible Disconnect Switches
SMC Visible Disconnect switches are available rated through 15 KV in non-load break applications. An auxiliary switch is provided on the switch handle that operates prior to switch blade operation to permit interruption by other devices.
Undervoltage & Shunt Trip Devices
These devices provide selective tripping from various control functions.
Separate Fuseholder
Retrofit of new applications may require a separate fuseholder, which includes an auxiliary switch option for remote or local annunciation. Available through 15KV applications.