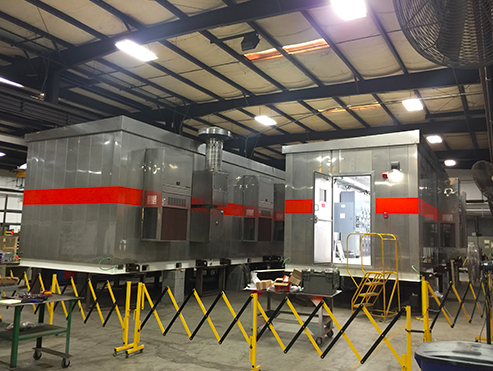 Prebuilt control rooms for electronic equipment can house your most crucial systems. A prefabricated electrical substation building or prebuilt electrical house can be a crucial aspect of your business if you are in an industrial setting. Having access to a quality control room can make sure that you can protect all of your most valuable equipment and make sure that they can stand up to any challenging environment.
Take the first step towards safe mining operations! call us at 276-285-3841
In order to get access to the best E houses in the USA, you'll need to consider a manufacturer in the USA that has the appropriate amount of experience. Our quality and prefabricated electrical substation buildings can give you access to the best level of protection. We are E house manufacturers in the USA with over 50 years of experience in the field. We can deliver a superior quality of product and we have been successfully managing and building e houses which are produced to suit any industry. Whether you need a power control room that's going to fit in a specific place throughout your shop floor or you could use access to an E house that is going to withstand a challenging environment underground, let us know what your specifications are and we can build a power control room of any size to house your electronic equipment. Rather than risking electronics that are vital to your business, we can produce the perfect solution to keep them safe and prevent injuries to your employees from high-voltage equipment.
Prefabricated E-House Solutions
Rather than having to disrupt your business operations by building an E house on-site, our team offers prefabricated solutions that can be made for any industry. We can improve your overall electrical infrastructure within the company and build the houses that can be assembled much faster. Our team works in many industries including communications, transportation, and the energy industry. In these industries, it's crucial to have access to the components that you need when they are required. Having access to proper safeguards can also work to minimize downtime within your business and protect you from experiencing losses. Downtime can often represent hundreds of thousands of dollars and we want to make sure that you can access systems that can be reliable even in challenging environments.
Learn more about our products with our experts
We perform advanced quality control on all of the prefabricated electrical substation buildings that we produce. As well as providing prefabricated results we deliver superior QA to make sure that these products are tested and designed to meet your every request. Our team is in the business of exceeding industry standards and this means going the extra mile with craftsmanship and with quality assurance.
Innovation and Commitment
With our many years of experience in this industry, we've created hundreds of these E houses for our clients. We want to make sure that we are using the best new technology and innovative manufacturing processes so that we can produce a prefabricated electrical substation building that you can truly trust to protect your vital electrical components on any job site.
Prefabricated electrical substations are a cost-effective and risk-reduced option to traditional brick and concrete construction. Every e-house is designed to meet specific application requirements, including equipment layout, site footprint limits, and logistic considerations.
Installation of e-house fabrication and equipment occurs in the Becker Mining facility. The e-house is fully functional and tested before it leaves the site. Prefabricated, pre-tested solutions are easier to install and more predictable. This also reduces the time required for commissioning.
The e-house portfolio covers modularized multi-building solutions, productized e-house designs like our custom e-house designs, and larger single-piece techniques that can be used for specific projects. E-houses are typically site-mounted on elevated piers and directly above subsurface cable pits. However, they can also be manufactured as trailer-mounted solutions.
Applications
Becker Mining's e-house solutions can be used for any project that requires less on-site labor. This is especially true for those projects with more complex requirements, such as those where installation time is important, in which qualified personnel and materials may not always be available or where the environment is difficult. This flexibility makes the Becker Mining E-house ideal for applications across rail, power generation, energy storage, mining, and processing.
E-house Features
Fully integrated system
For a higher level of security and safety, there is less site work.

Fully optimized, engineered and assembled for quick deployment

Becker Mining takes responsibility for equipment selections to reduce client risk
Complexity Reduced
One point of contact for the execution of the project package

Simple commercial agreement

A shorter startup and commissioning period

Harmonized warranty terms and payment terms
Reduced Capital Expenditures
E-House is a standard solution that can help you save significant money. E-House can reduce planning costs by as much as 50% The E-House, a prefabricated electric building, is fully integrated and pre-tested. This allows for a reduced worker presence and significantly reduces the installation time. E-House users also enjoy a compact footprint due to its modularity. This alone can result in a 20% reduction in total ownership costs (TCO) compared to traditional power distribution substations.
Reduced Operational Expenditures
Becker Mining's E-houses allow potential reductions in operational expenses, independent of capital expenditure. The optimized building volume, system design and energy consumption of HVAC systems will result in a lower energy consumption.
Benefits
Cost savings: An E-House can help you reduce capital expenditures (CAPEX), and operational expenditures.

E-Houses are time-efficient: They can be delivered ready-to-use and save you time.

Safety is enhanced: EHS performance can be improved by minimizing on-site presence.

Optimized footprint: Because of its modularity, qualified design.

All in one solution: From the planning stage to installation and commissioning, everything is handled by one partner.
Contact Us
Becker Mining is the industry's leader in increasingly more sophisticated electrical control systems. Our custom equipment operation can transform your specifications into precision products, utilizing state of the art parametric engineering and advanced lean manufacturing techniques.
Other Products We Offer:
For more information on other services we offer, get in touch with Becker Mining. Contact us today to work with one of the best E House manufacturers in the USA!