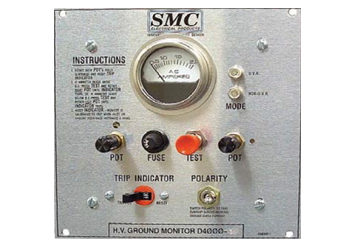 Ground Monitors are used in mining and industrial operations to verify the integrity of earth ground conductors in electrical equipment. MSHA (Mine Safety and Health Administration) required the U.S. to maintain the integrity of the ground wire on all electrical machinery that was used in underground and surface mines. Becker Mining, a pioneer in ground monitoring design, has thousands of circuits worldwide.
High Voltage Ground Monitor Offers Protection in Underground Mining
Becker Mining has been a trusted supplier of high-voltage ground monitoring equipment for mining over the years. Our ground monitor series is well-known in the mining industry. Becker Mining monitors a trailing high-voltage cable in accordance with the standard for mine safety. It also checks for ground faults and open circuits of ground conductors.
Ground fault monitoring uses the residual current monitoring principle. Ground fault current can be evaluated by using the zero sequence current transformer signal. The terminating device, located at the load end on the trailing cable, completes the ground continuity monitoring loop.
Becker Mining's high-voltage ground monitoring system can be used for cables up to more than a kilometer. This ground monitor is perfect for monitoring underground mine supply cables and clearing ground faults in underground mining. It can also monitor excavators equipped with trailing cables such as tunnel boring machines.
High-voltage, impedance-type monitor

Trips breaker when the pilot-ground circuit resistance loop increases four ohms from the calibration setting

Easily installed, front panel mounting

Easy access from front cover

Constant voltage transformer

Polarity reverse switch

Indicating light

Test and reset button

Relay lockout until reset

System voltage: 120 VAC, 60 Hz., 50 VA

Available in several models (consult factory for other than below)
Operation
This impedance type monitor used on high voltage systems detects changes in ground resistance, tripping the circuit breaker at unacceptable level. Provides assurance of safety grounded electrical equipment and protects personnel. This compact front panel mounting unit is easy to install and maintain. The constant voltage transformer stabilizes operation through voltage dips of 35 percent. The polarity reversal switch enables the user to keep the source current and induced current in-phase thus reducing nuisance tripping. The trip indicator serves two functions: shows monitor has tripped breaker and has optional lock-out function which prevents operation until "Reset". (If desired).
GCS NO. 6314-028
Good for ground loop resistance of 15 ohms, functions as undervoltage.
GCS NO. 6314-029
Same as 6314-028 with added feature of 0.25 second time delay to prevent tripping when energized after loss of power. Should be employed with a shunt trip.
GCS NO. D-4000-1
Good for ground loop resistance of 8 ohms, can function for use as undervoltage or employed with shunt trip.
GCS NO. D-4000-5
Same as D-4000-1 except good for ground loop resistance of 25 ohms
Benefits of Using a High Voltage Ground Monitor
High voltage ground monitors are critical components of industrial safety systems. They provide a way to detect and monitor high voltage levels and protect workers from getting electrocuted. Here are some of the benefits of using a high voltage ground monitor in industrial settings:
Increased Safety: High voltage ground monitors can detect hazardous levels of electricity that may be present in an area, and alert workers to it so they can take the necessary safety precautions. This helps to ensure the safety of workers and reduce the risk of electrocution or injury.
Early Detection: High voltage ground monitors can detect high voltage levels in a very short time, which can be beneficial in preventing damage or injury due to electric shock. Early detection of high voltage levels can also enable workers or engineers to take corrective action before a serious accident occurs.
Cost Savings: High voltage ground monitors can save costs by eliminating the need to purchase costly safety equipment such as line voltage meters or voltage limiting devices. By detecting and monitoring high voltage levels, they make it possible to reduce expensive repairs and replacements.
Reliable Data: High voltage ground monitors offer reliable data that can be used to accurately measure, detect, and analyze high voltage levels in an area. This data can be used by engineers to design a safe and reliable electrical system for an industrial site.
Contact Us Today
Becker Mining is the leading provider of high voltage ground monitor in the industry. With its advanced technology and rigorous quality control standards, Becker Mining ensures that customers have the best experience. With its reliable and safe products, Becker Mining is the trusted partner of many organizations. If you are looking for a reliable and safe High Voltage Ground Monitor, Becker Mining is the best choice. Call us now and discover the advantages of choosing Becker Mining!
Products We Offer:
Since 1971, Becker/SMC has been a trailblazer in delivering top-notch electrical components, open-type and explosion-proof motor starters, longwall electrical controls, and power distribution equipment. Our unwavering commitment to quality and customer satisfaction has made us a trusted name in the industry. Contact us today!
Take the first step towards safe mining operations! call us at 276-285-3841